Thank goodness Friday has arrived. It has been one hectic week and I am so ready for it to be over.
I spent most of my day making Princess E a bunny doll. My grandmother use to make them all the time. When she passed away last year, I searched her house over looking for one of them. I only found one. Princess E found that one bunny doll in my room and fell in love with it. Now since she is only two, I decided I didn't really want her to have it yet. So, I decided to get some colorful fabric and make her one of her own.
We went on Wednesday to JoAnn's Fabrics to get the material. I could live in that store. All that material! I could spend hours in there and a small fortune. I never could understand why my grandmother had so much material and now I understand. Going to JoAnn's is like the best treat ever! It was nice to be able to go and just look around after the crappy week I've been having.
So, today I started on making her bunny. I found a pattern online that was free and it turned out to be a pattern that did not have very good direction. I muddled through and the finish product was the cutest bunny ever! If I decide to make more I definitely will be finding another pattern!
Princess E fell in love with the bunny right away. She has carried it everywhere this evening!
Being able to sew and figure things out gives me such gratification. My late Grandmother taught me quite a few things and it makes me feel proud when I can actually use these skills. She was such an awesome woman and I could write a book on her. She was so crafty and when I am able to accomplish these things it makes me feel great! I always think, Maybe I am like her more than I realize.
I hope everyone has a GREAT Weekend. Now lets get this Friday started!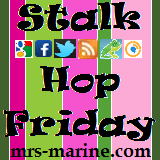 Be sure to check out my other post here and link up your blog. I may be your newest follower!